4th of July Village Parade and 9 Day Celebrations
Celebrate the 4th of July in Taos Ski Valley –
4th of July Village Parade
& 9 Day Celebrations –

Parade:
Wednesday, July 4, 2012
2:00 pm
Food:
11:00am to 9:00pm
Live Music
2:30pm
June 28 – July 8:
9 Day Celebration with Music, hiking, chairlift rides, food & more!
Bring the whole family to Taos Ski Valley to join our  "cool" 4th of July fiesta celebration, expended to 5 days this year, June 30- July 8. Taos Ski Valley offers wonderful summer activities for everyone to enjoy, including summer hikes, disc golf, horseback riding, lift rides and more. Taos Ski Valley's 4th of July event includes our popular parade, food, live music, duck race for kids, bouncy castle and more. Book your lodging now.
Celebrate the 4th of July in Taos Ski Valley in true Mountain Fashion. Get here early to greet our village parade led by Jean Mayer, founder of the St. Bernard Hotel and a pioneer of Taos Ski Valley. Cheer on the colorful floats as they make it through the village streets. Local ski patrollers, EMS, Village Staff, TSV Staff and Residents are all challenged to create the most hilarious contraptions to be in the parade and win the coveted 4th of July "Float of the Year" Trophy.
Kids get here early and you can ride in the fire truck with sirens blazing! 
Mayor's Award of $50 for the best decorated bicycle, kids 12 and under!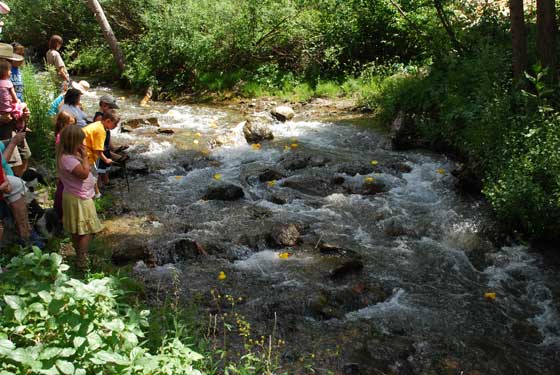 Rubber Duck Race
Location – Sierra del Sol
3pm – 3:30pm –
The Rubber Duck Race is a fundraiser for the Field Institute of Taos – Outdoor Education Programs for Youth. You may pre-purchase your racing ducks by contacting Fit Taos at info@fitaos.org then watch in anticipation at the finish line to see your ducks placing. Great prizes will be won by all ducks that are placed.
---