_______________________________________________________________ Taos Ski Valley was incorporated as a village in 1996, New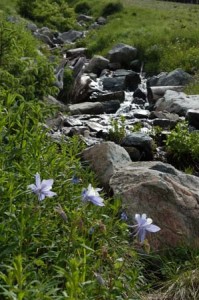 Mexico's 100th municipality. While the last official census put our human population at 79 inhabitants, we share our valley with a much larger population of deer, elk, bear, and bighorn sheep.
At a base elevation of 9,200 feet, the Village is surrounded by green forests and high mountains. We have the highest residential home in New Mexico at 10,388 feet elevation. Wheeler Peak, the tallest mountain in New Mexico at 13,161 feet, overlooks the ski area and village. We are home to the world class ski resort, Taos Ski Valley, and our mountains provide great skiing and snowboarding in winter and peaceful hiking in summer, along with a variety of outdoor activities.
We are located in the northern part of New Mexico, almost halfway between Albuquerque, New Mexico and Colorado Springs, Colorado. The Town of Taos, the Taos County seat, is 21 miles away.
A century ago, our valley was a bustling miner's camp. Today Taos Ski Valley is home to 40-plus merchants with an inviting range of casual dining, lodging, shopping and outdoor activities. The Village's European tradition welcomes you with a sense of belonging in our community.
---