The Village of Taos Ski Valley's Public Works Department constantly strives to keep up with snow removal to provide access for residents, guests, and emergency vehicles. The following notes the snow removal policies within the Village.
From November 15th through the end of ski season, snow removal crews are equipped to work seven days a week to clear the roads. Streets with the most traffic receive top priority. These include Twining, Thunderbird, Ernie Blake and Porcupine Roads. Once these roads are safe and passable, crews then focus their plows to the second and third priority streets. The color-coded map below shows the road priorities.
Our goal is to accomplish clearing within eight hours after a storm.
Marker poles are placed next to or on the fire hydrants in the Village so they can be seen by the snowplows and the Fire Department. If you notice a fire hydrant that has not been marked, please call the Fire Department at (575)776-8118. Remember, it is extremely important to make fire hydrants accessible, especially on your property.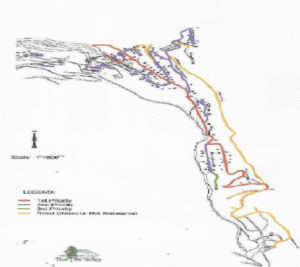 Parking on the roads is prohibited in the Village during ski season. This allows snow removal crews to more efficiently clear the roads. Cars impeding snow removal may be ticketed and towed. If you think your car has been towed, please call the Village Marshal's office at 575-776-2815 or Taos Central Dispatch at 575-758-3361.
Our crews try to minimize blocked driveway entrances during the second phase of cleanup after a storm. Please remember that the Village road right-of-way may extend beyond the edge of the road. Landscaping within the road right-of-way is at the owner's risk.
When hiring an independent snowplow service, make sure the contractor is licensed, complies with the Village's ordinances and rules, and won't be a no-show on heavy powder days. Also, your snow belongs on your land – make sure your service neither plows the snow onto a neighbor's yard nor onto the public right-of-way.
According to Village policy, Village right of way and adjacent setbacks along the right of way can only be used for snow removal by the Village and is not intended for use by private property owners and/or contractors.
The Village has received numerous complaints from property owners that Village employees have compromised private property or caused damage due to snow removal.
In fact, contractors for private snow removal have been compromising adjoining properties by illegally dumping snow on private property as well as in the public right Of way.
We continue to advise you as a property owner in the Village of Taos Ski Valley that you are required to keep all snow on your property. You will have to notify your contractor and/or managing agent to comply with the Village policy or be required to reimburse the Village for returning any snow to your property.
Additional penalties may also be imposed. Village staff is in the process of developing an alternative snow removal program whereby the Village and residents can mutually participate in a plan to alleviate the problems attributed to snow removal. Until a new comprehensive program can be developed, please try to comply with the regulations presented above.
The Village has identified an offsite storage area for private snow removal that can be utilized by you or your contractor. Please contact the Village Public Works Department for information regarding private contractors and the availability of offsite storage areas.
For more information, contact Operations staff at:
575-776-8846
or the Village offices at:
575-776-8220