VTSV Community Public Safety Notice 3/20/20
Reminder:
You should have received today, Friday March 20th, around noon the REGROUP test signal. If you did not get the test please contact us.
Attached is information of how to register for the Village's mass notification system through the Emergency Management of Taos County:
If you go directly to the registration page and sign up, don't forget to then click on the "Groups" link to the left of the last page and then select the Group.
Be sure you chose the Group for "Village of Taos Ski Valley Public Safety", so that our Police or Fire Chief can administer the list. Once accepted you will receive an email verification.
You may sign up for other groups as well but until you are accepted into the list, you won't get notification.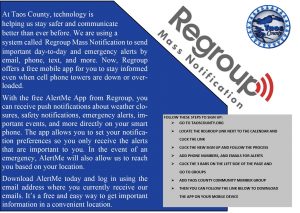 The Village will be working with the Public Safety Committee to help contact residents in the Village on a one to one basis. Do you know of a neighbor that is in need of assistance with food or other emergency supplies?
It looks like we have about 65 people staying in the Village until mid-April. Our Police Officers have been checking homes to see who may be around, or have needs, in this emergency.
If you would like the Village to be aware of who is in your house and when, please let us know.
Do Not Respond to anyone asking for COVID-19 donations. If you want to donate through the Village for this emergency, you can contact the Fire Chief or direct donations to the Fire Department at the Village office.
Also attached is a picture of advisory signage at the base of Twining Road. "Local Traffic Only" means the traffic should have a legitimate reason for being on the road. It is not a violation at this time.

Until the Village is notified by Federal or State authority we do not intend to close the road. Area emergency officials are concerned that there may be people on the mountain, without ski patrol or avalanche rescuers this late in the season.
Of concern also is illegal activity in your neighborhood during this emergency, while homes are empty. Please let the Village Police know if you notice any suspicious activity.
The Village's offices are closed to the public although our staff continues to be available for services. Many are working from home. See web site or attached for contact information.
Thank you.