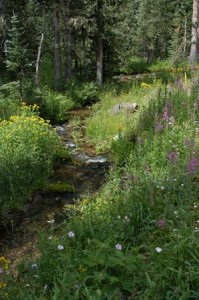 The Village of Taos Ski Valley provides year round opportunities for recreation within its boundaries as well as in the surrounding Carson National Forest and Hondo-Columbine Wilderness Study Area.
Things like Skiing, Snowboarding, Snowshoeing, Snowmobile touring, Horseback Riding, Mountain Biking, Hiking, Camping, and Fishing all characterize the endless possibilities of this area rich in natural beauty.
The Parks and Recreation Committee provide input to the Village Council on parks and recreation issues.This Committee has been instrumental in the construction of the John Ramming Educational Trail, the gazebo located at the hiker parking lot, and the Visitors' Information Center at the Guard Shack. They are currently working on several projects, including a hiking/biking trail between the Village core and the Amizette area and a permanent picnic/play area.
For more information see the Parks & Recreation Committee »