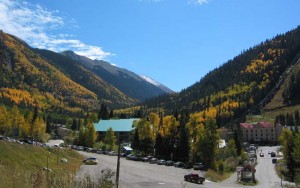 The Building Services Department, headed by Building Official Jalmar Bowden, oversees current development and future planning for growth within the Village of Taos Ski Valley, insuring that development and growth is consistent with the Village's goals and Master Plan. The department is located on the second floor of the Village Firehouse, located at 7 Firehouse Rd, Village of Taos Ski Valley.
This department is in charge of providing several different types of permits, depending on the requirements of the project. In general, if you are making changes to a building, you will need a permit first. Along with permitting, this Department is in charge of planning and installations of storm water drainage facilities, curb and gutter, and sidewalks in connection with street improvement projects; undergrounding overhead utility lines; traffic flow management; watercourse and drainage management; Town mapping; supervision and control of public infrastructure and capital projects; inspection and sign off for Building Permits and Certificates of Occupancy.
Information and questions pertaining to Building Codes, Building Permits, Landscaping guidelines, Zoning Regulations, and Preliminary Building Conceptual Plans, Etc, can also be requested by contacting the Village Administrative Office at 575-776-8220.